Gulf Coast Reads The Library Book by Susan Orlean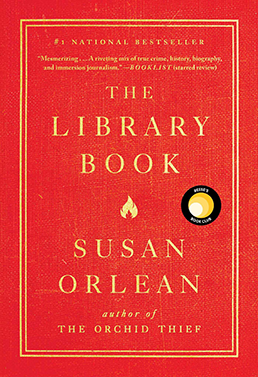 Gulf Coast Reads is delighted to announce that The Library Book, Susan Orlean's bestseller about the mysterious 1986 Los Angeles Public Library fire, is the 2019 selection for our annual regional read-along.  Gulf Coast Reads may best be described as a friendly neighborhood book club on steroids. This October, public and academic libraries along with private and public community partners will encourage everyone across southeast Texas to read and discuss The Library Book, attend special events and generally engage with the region's vast community of readers.
In The Library Book, Orlean chronicles the Los Angeles Public Library fire and its aftermath to showcase the larger, crucial role that libraries play in our lives. The author delves into the evolution of libraries across the country and around the world, from their humble beginnings as a metropolitan charitable initiative to their current status as a cornerstone of national identity. Orlean brings each department of the library to vivid life through on-the-ground reporting, studies arson, and reexamines the case of Harry Peak, the blond-haired actor long suspected of setting fire to the LAPL more than thirty years ago. 
This October, along with book discussions, libraries and partner organizations will host a wide variety of special programs and events drawing on The Library Book's subject and themes. Stay tuned here for more details about Gulf Coast Reads events in your neck of the woods and across southeast Texas.